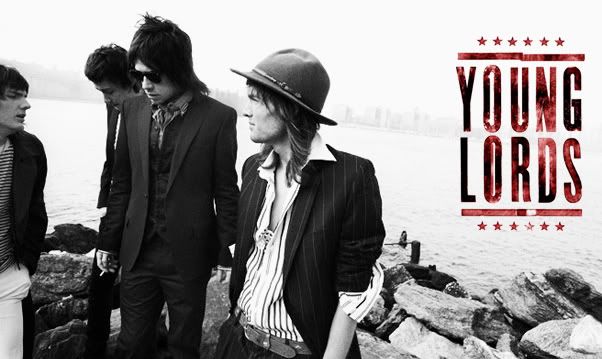 Meet Young Lords. They are 4 piece out of NYC and they look the part.The band consists of lead singer Blair Van Nort, his brother and guitarist Reed Van Nort, drummer Cory Lasser, and finally guitarist Adam Gerard. They formed 2 years ago in NYC. They have played with The Fratellis and Virgins over the span. They got the cool attitude, dress well and I'm sure most people will agree that they look good. They have been featured in music/lifestyle magazines such as Nylon and Anthem to prove that. You may recognize the name or the song 'Rodeo Songs' because they were featured on MTVU. Props to them for doing all of this without a label. Even more impressive!

When I gave their album a few spins the first two bands to come to mind where Kings Of Leon, and The Strokes. I guess I could understand everyone else saying The Stones too because they got a rough bluesy sound that could have come from the 1960's. I guess KOL comes from the cool rocker attitude, and the Strokes comes from the rough NYC sound that they got. They got a rough sound that would not work in my mind any other way. The production is at the right level for sure. Lead single Rodeo Songs starts the album off right. It has a nice steady beat with lyrics wanting to get home to that baby. They create really steady beats that you really can nod along to. Their main strength has to be their chorus's. They really craft them well, and you can't help but notice how catchy they are. "Riverside" presents some great blues guitars and a really cool bass line about half way through to lead right into a jam. "Make To Mistake" is a ball of energy that does not let up at all. This is definetly the sound they are going for and they should be.
The song 'Pretty Little Mess' actually caught me off guard because for some reason it reminded me of 'Hard To Explain' by the Strokes. One of the highlights off the album was at the end of the album titled 'Hail Mary.' Cool guitar riff, vocals of heeey floating in between its really good stuff. Has a really nice feel to it.
The album flows quite well with no filler. They are playing with The Virgins in NYC tomorrow. These guys will be getting big in no time, keep an eye out for them this winter and it 2009. People will be talking about these guys very soon!
Buy the album on October 7th.

Young Lords – Rodeo Songs (MP3)
Rating: 7.8
Listen To These Songs:
1. Rodeo Songs
2. Hail Mary
3. Make No Mistake
4. Riverside